Did you know that there is an easy way to send a long article you found while browsing on your phone and bring it to your desktop browser, without e-mailing yourself the link? In this post, I'll show you how to use send to device in Firefox!
What Is Send to Device?
Send to device lets you send an open tab from one device to another seamlessly. If I choose this option on my phone or tablet and then go to my web browser on my desktop computer, I'll have the new tabs there waiting for me.
To send to a device from Firefox on iOS tap the hamburger menu, then choose send to device (the icon with a computer screen and an arrow pointing to it). Take the Swedish in the screenshot as a little bonus.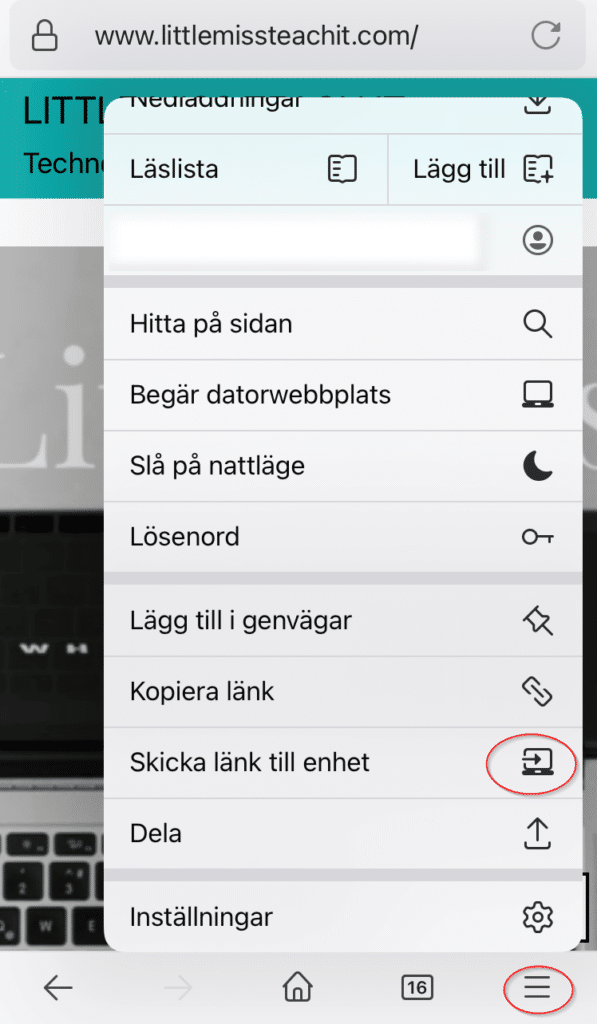 The tabs that have been sent have a small dot indicating that they were sent from another device.

How Do You Get Started?
How do you get started with send to device? First of all, have a Mozilla account. Second of all, make sure you've logged into your Mozilla account inside your Firefox browser.
This is also useful if you wish to simply sync all your tabs and bookmarks between your devices. Just make sure you're logged in with your Mozilla account and you're good to go.
Tip: give good names to your devices so you know where you send your tabs!
Just like saving content you find online to read later using Pocket is easy to do, so is sending a tab with a longer article from a mobile device to your desktop browser.
After all, if it's a longer text it's often nice to view on a somewhat larger screen, don't you agree?
Examples of How to Use Send to Device
When can send to device be helpful? One example is if you, like me, do a quick Google search on your phone – but prefer to place an actual order using your computer.
No more having to remember what search terms I used, or sending myself the link in a mail or on a note – I can send the exact tab instead and pick up right where I left off.
Since send to device is connected to your account, you can also use it for devices that are powered off when you send the tab.
For instance, if I make a quick search before my commute from work back home, I can send the tab to my desktop computer at home.
Even though the computer is turned off at this point, once it's up and running and I've started my Firefox browser, my tabs show up by themselves.
Conclusion
If you've come to the conclusion that there has to be a better way to keep your search results or open tabs instead of e-mailing yourself, then you are absolutely right! No more googling on one device and then forgetting it!
If you have a Mozilla account and just haven't tried using send to device before, give it a try. See if you like it! Once you've tried this a few times, I'm sure you'll find it easy to use and something that can help you in your day-to-day without becoming another difficult tool to use.
Have you tried using send to device?
Resources