I recently decided to switch back to analog planning after using a digital planner for the last 2,5 years. I had a notebook at my disposal and decided to use this as my planner. After a month of use, it's time for an honest review of the Scribbles That Matter notebook.
About the Company
Scribbles that Matter is a UK-based company that makes premium notebooks and planners. The company was founded in 2016 and have a reputation for creating journals that customer enjoy using.
The notebooks come in Iconic and Pro Styles and the covers are in synthetic leather, making them all vegan. They ship to the US, UK, EU, Canada, Australia, and Japan. Apart from notebooks the company also sells planners, pouches to protect your journal, grocery shopping pads, a trolley, and gift cards.
The Notebook
I've tried a few notebooks before (Leuchtturm 1917, Rhodia Goalbook, Moleskine), but this was my first Scribbles that Matter. I prefer A5-size notebooks and this time was no different. The specific book I have is a teal one with a dot grid. It's part of their A5 Dotted Journal Iconic collection. This means that the cover of the notebook has small doodles on it, which you can feel since they are embossed into the actual cover.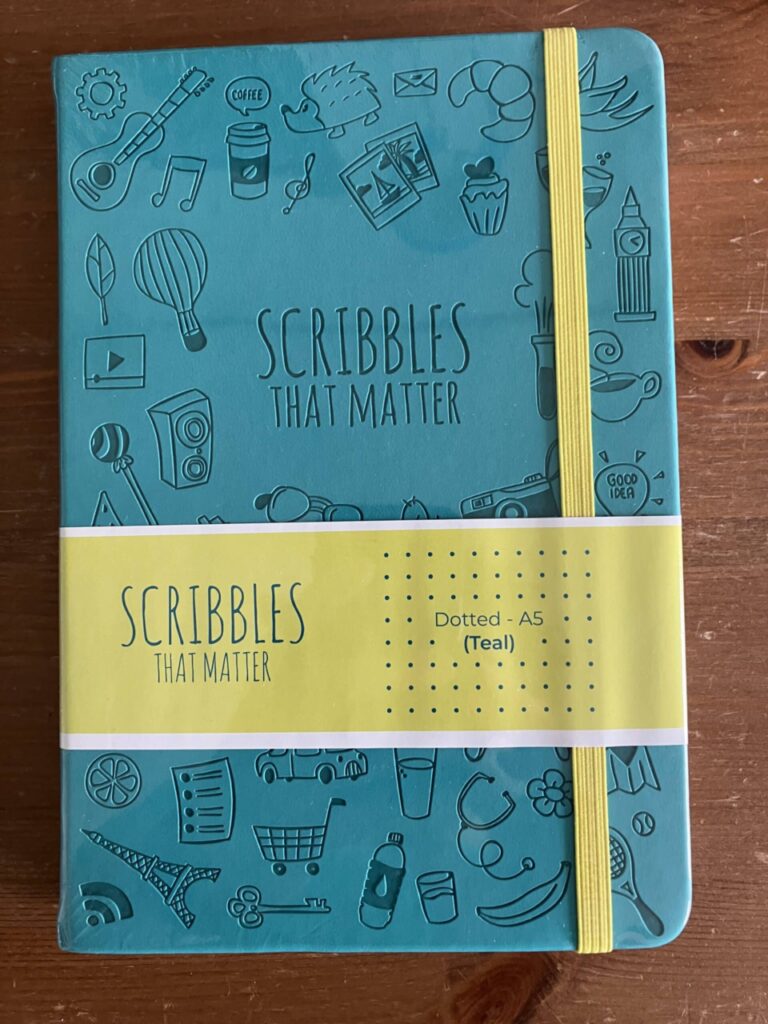 It comes in excellent packaging which protects the notebook well during transport. Notebooks usually hold up decently, but it's nice to know that there's an extra layer protecting the cover during shipping.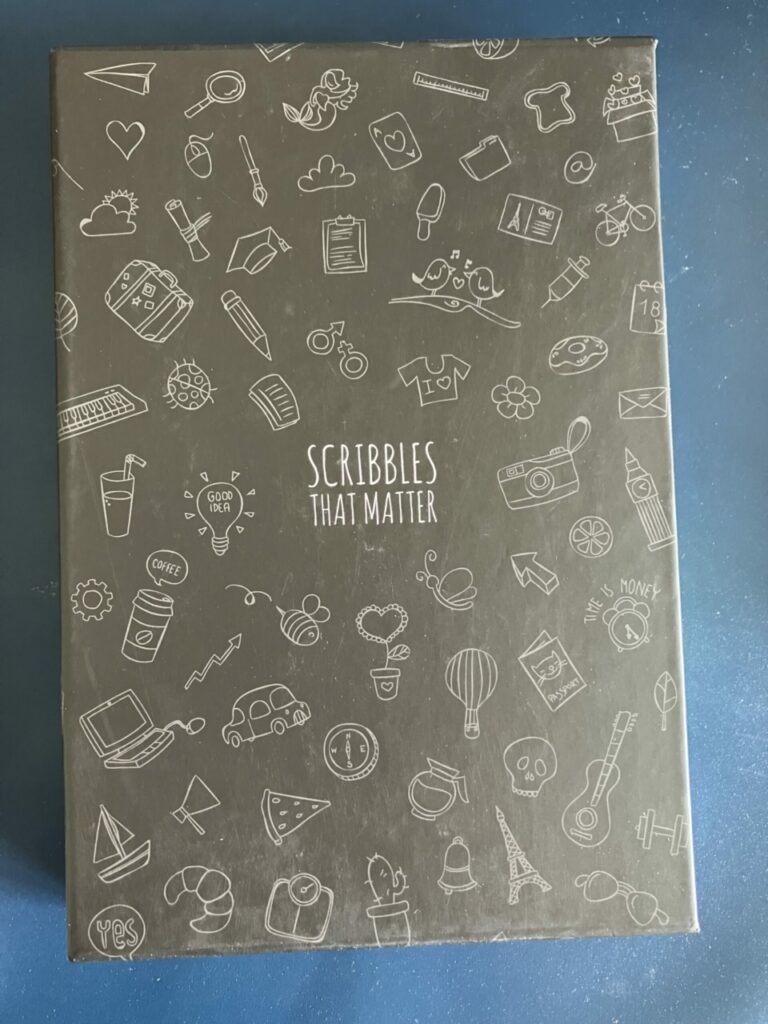 Pros
A quick summarization of the pros of this notebook would be:
Thick pages
Page numbers
Pen loop
Lays flat
Pen test pages
Back pocket
Index
Discreet markings for an easy split in half/quarters of a page
Thick pages are no surprise since it's 160 gsm paper. The pages are all numbered which is nice. If you need a pen loop and pages to test out your pens, this notebook comes prepared with this already. It also comes with an index and has a pocket in the back. Since it's thread-bound, it also lays flat without any problems – yay to easily see the whole week on one open spread! The ink dries fast, something that you'll like if you're a lefty like me. If you prefer white pages to yellow pages, this is the notebook for you as well.
Something that positively surprised me was that the pages have discreet markings, making it easy to split your page in half or quarters without having to take out a rule or count the dots on the page for an even split. I didn't know about this before and only noticed it when I started to prepare my weeks. A nice bonus for sure! Another bonus is the very last page of the planner, which is intended for mindfulness and reflection.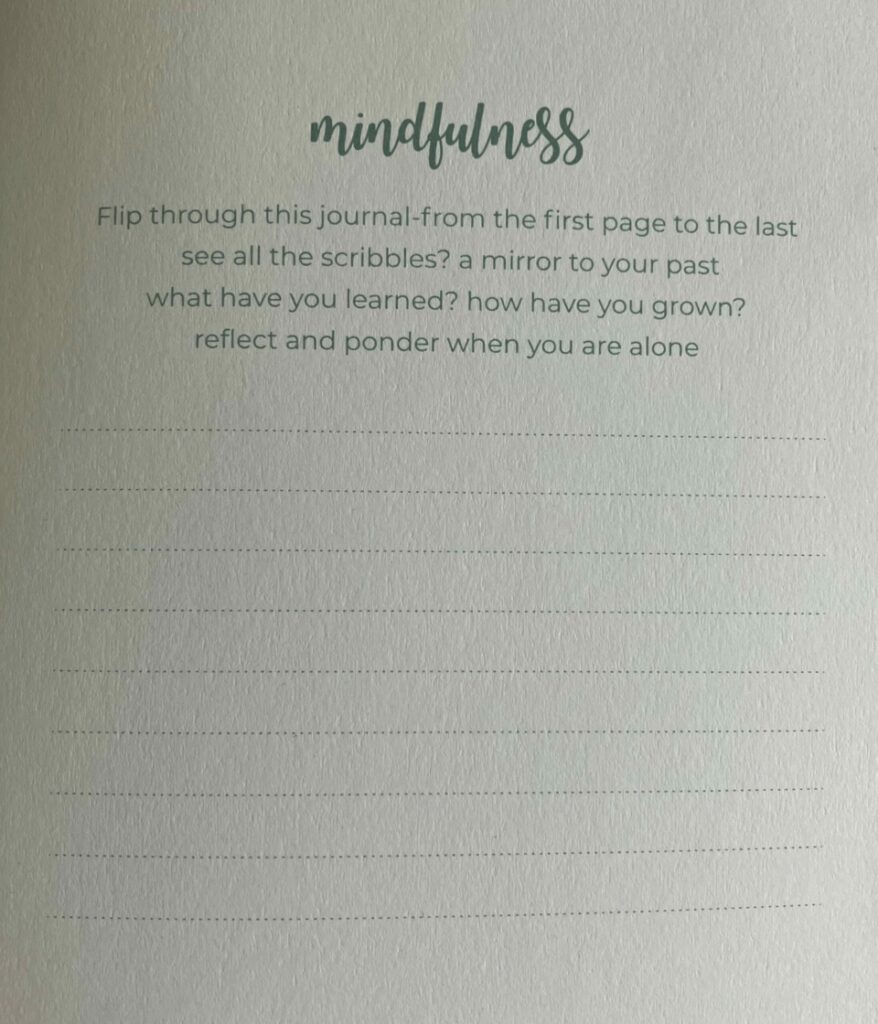 Cons?
So far, I can't say that I have found anything negative with this notebook. It holds up colors well, lays flat, and has no sign of ghosting whatsoever. I will say that this notebook is one of the pricier ones that I've used and, if you live in Europe, you have to account for shipping as well. I wish there was a way to buy this notebook without it being shipped long distances. Unfortunately, the closest for me is from the UK so there's that.
Summary
So, what is the final verdict in this review of Scribbles That Matter? It's difficult to not be impressed by this notebook. If you're on the hunt for a new notebook and want to use one with dot-grid, white pages that can hold your colors without ghosting or bleeding, this could be the one for you! Sure, it's a bit more expensive, but you get a notebook that lays flat and feels well-crafted. Unless you're the type of planner that burns through several notebooks a year, it could be worth the extra cost to have one that will last you that year or however long you make it last.
Would I buy it again? I'd consider it, but I'd also keep an eye out for sales since the price goes up to have it shipped to me as well. I'd rate it 5/5 stars!

Which is your favorite notebook? Have you tried Scribbles That Matter? I'd like to see your thoughts on this topic!