If you couldn't get enough of Poppy, Casteel, and the kingdom of Atlantia look no further! This is a book review of Kingdom of Flesh and Fire – book two in the series!
What did I like?
Being the second book in the series, we once again come back to the kingdom of Solis and where we left Poppy and Casteel in the first novel. What I really enjoyed seeing is that we get to know the characters more. The relationships deepen, and you get more of the characters' previous background story.
Tensing, I had a feeling I didn't want to know what he thought. That whatever it was would be more earth-shattering than what he's already shared. It'd be words given life that I wouldn't be able to control.
"I think you're heartmates."
If you liked the idea of both the Atlantian people and the wolven, you won't be disappointed either. You'll learn more about the different Atlantian bloodlines that exist or have existed before while learning more about Poppy's true heritage.
"You look like moonlight," Casteel whispred, and it wasn't the sunlight reflecting over his cheek. It was me.
The plot intensifies, what is actually going on in the kingdoms of Atlantia and Solis? In reality, things are rarely black or white and the story here is in more than one shade of gray… There are also short breaks and some peace for our protagonist and her traveling companions. As for who the main antagonist is, I'd say this still hasn't been fully revealed yet.
Without spoiling too much I can say that you get to see more of the world where the story takes place. You get to witness firsthand Poppy's first look into Atlantia and the journey there. Compared to the first novel, I like the pace better in this one. To use the terms of someone used to playing roleplaying games: it's less downtime between the action sequences in this book.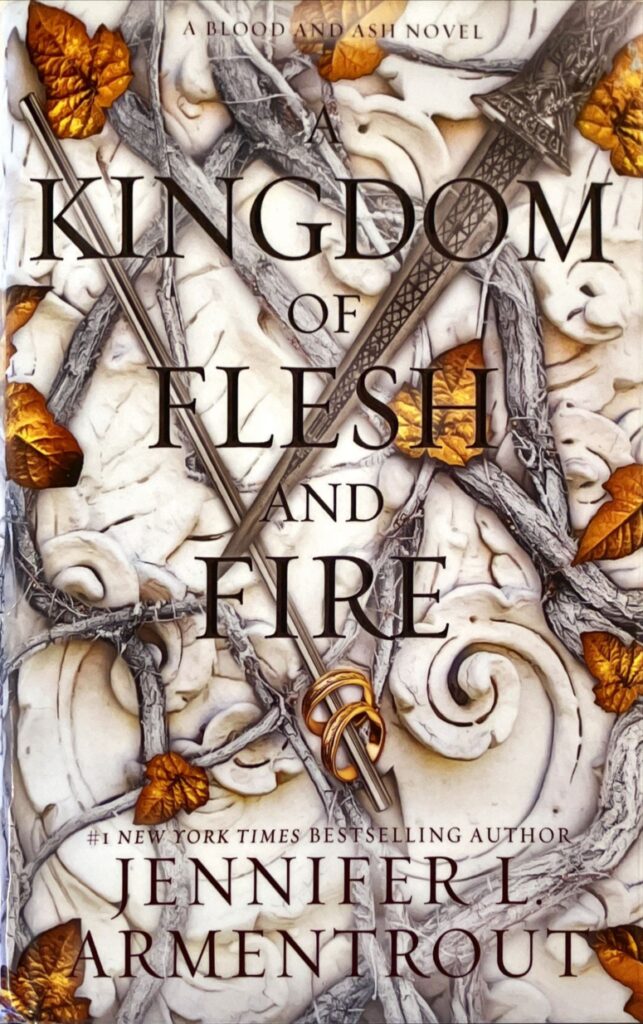 What I disliked?
Some characters in the first book return, but in some cases, they're also taken care of swiftly. In some cases, I'd have liked a bit more story here, to be honest. Apart from this, I didn't really dislike much with this novel. I think it's stronger in terms of story and characters than the first novel in the series.
Final verdict on Kingdom of Flesh and Fire
To end this book review, would I recommend Kingdom of Flesh and Fire? Absolutely! This novel, and series, have become my latest reading obsession and I can't wait to have time to continue the next book. Luckily I have book three reserved at my local library.
I'd rate this:

Take a look here if you are interested in more book reviews. Want to learn more about the previous novel From Blood and Ash? Read more about it here.