Do you like reading on a digital device, but don't want screen time before bed interrupts your sleeping schedule? Digital devices are great, the blue light  they emit however is not. Is there a device that gives the pros of reading on paper, without the cons of keeping you up too late? Today I'll give my honest review on Amazon's Kindle Paperwhite 2021 Edition. There are plenty of tech reviews out there, I've chosen to focus on the user experience instead.
Why Did I Buy a Kindle?
I already own an iPad, so why decide to go and buy yet another device? The answer was simple: I wanted a device to read books on. A device that could do nothing more than that! My iPad is great for plenty of things, but it'sdifficult to stay focused for a long time while reading.
Using a device that has wifi but no apps set me up for a more uninterrupted reading time – no notifications! I could use DND-mode, but I know that I would likely be doing something else within a few minutes… This type of device have better battery life – that alone sounds like a win to me!
Finding the Right Kindle for You
I've never owned a Kindle or any e-reader before, and made sure to research on my own. I like to think the purchase through before acting on it.
As with any purchase, I advise you to focus on what is most important and makes the most sense to you. There are plenty of different models out so take your time and research before you click that buy button.
Since this is my first Kindle device, I didn't want to go for the latest, most pricy model. I was looking for something with decent storage, but wifi alone was going to be enough for me. If needed to, I know I can always hotspot from my phone to download a sample or a book.
The different options I looked at were the following:
Kindle Oasis – the newest version of the Kindle device, released in July 2019, and the most expensive version
Kindle Paperwhite – sits somewhere in the middle when you look at prices, the first version came out in September 2012 but the second release was made in 2021
Amazon Kindle – the first version of the device was released in 2007, the cheapest option out there but has been around for quite some time now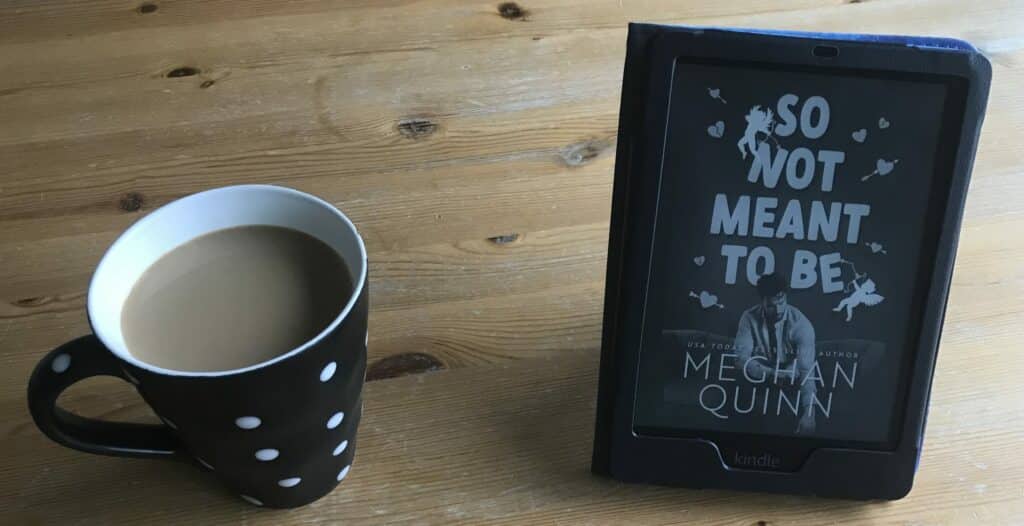 After some research, I settled for a Kindle Paperwhite. It had good reviews and seemed to be in the mid-price range. For storage, I got 8 GB – this gives me space for around 2-3 000 e-books or 30-40 audiobooks. The device is lightweight, only 208 grams, which feels like a thinner paperback when you carry it.
Initial Setup
You need an Amazon account since this is where you'll buy and download your books. If you don't have an account already, it's free to create, and all you need is an e-mail address. Once you have your account, log in to your device and network and set a pin code if desired.
You can adjust some options for the device itself, such as whether to display the cover of the book you currently read, and a schedule for your screen to use warmer tones at night. You can also change some reading options such as page refresh and if your device should remember words you look up while reading. There are options for accessibility to get spoken feedback when touching items on the screen and to invert black and white.
It's easy to navigate inside the device, your main places to go are home, the library, or the book store. Inside the store, you can buy books or download samples. You can also have a subscription for Kindle Unlimited, to get access to e-books and audiobooks. This is not something I don't use at the moment.
Do You Need a Cover for Your Device?
As for most devices, you can customize (and protect) your Kindle by getting a cover for it. Since I ordered mine off Amazon, I decided to get cover for it as well.
I wanted something that protects the device and looks nice on my bedside table at the same time. I settled for Fintie Z-Starry sky (keep in mind, this is from the Swedish version of Amazon). The cover feels nice, and it was easy to slide the device in and start reading. One thing to note: make sure to get a cover that matches the screen dimension, or your Kindle version.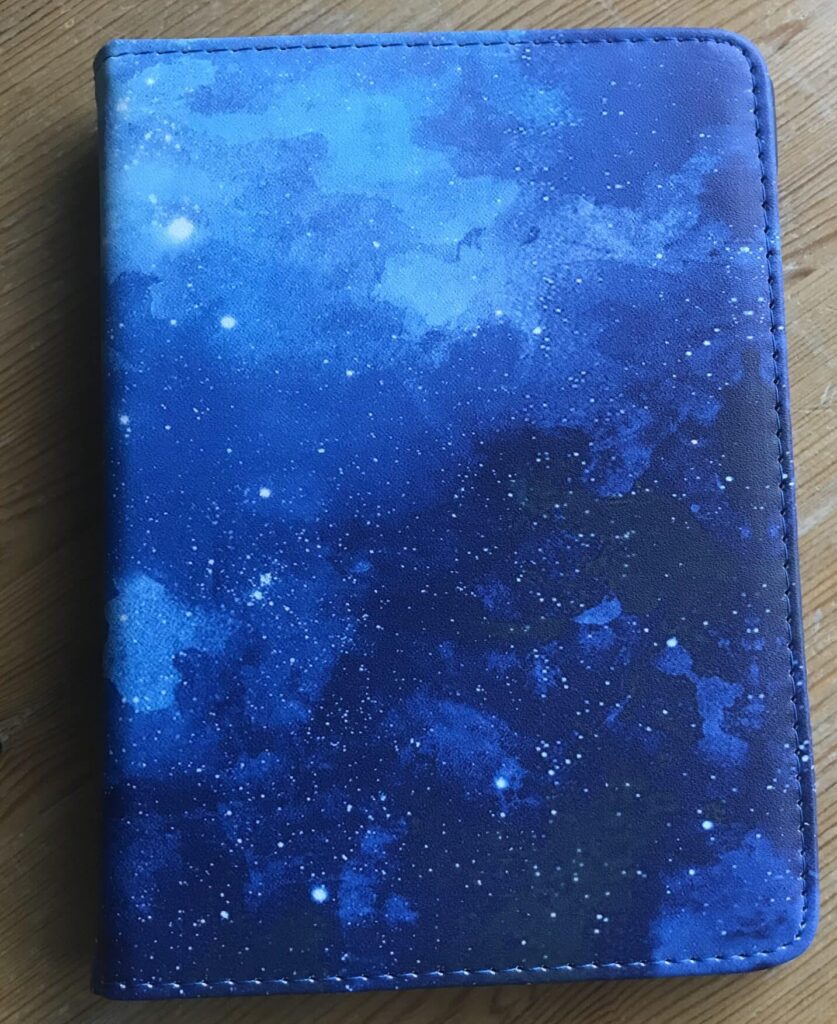 Apart from the galaxy design print, this cover also has something else to offer: a small pop-out. This gives the device the ability to stand on its own. Perfect for when you want to read and drink your coffee at the same time!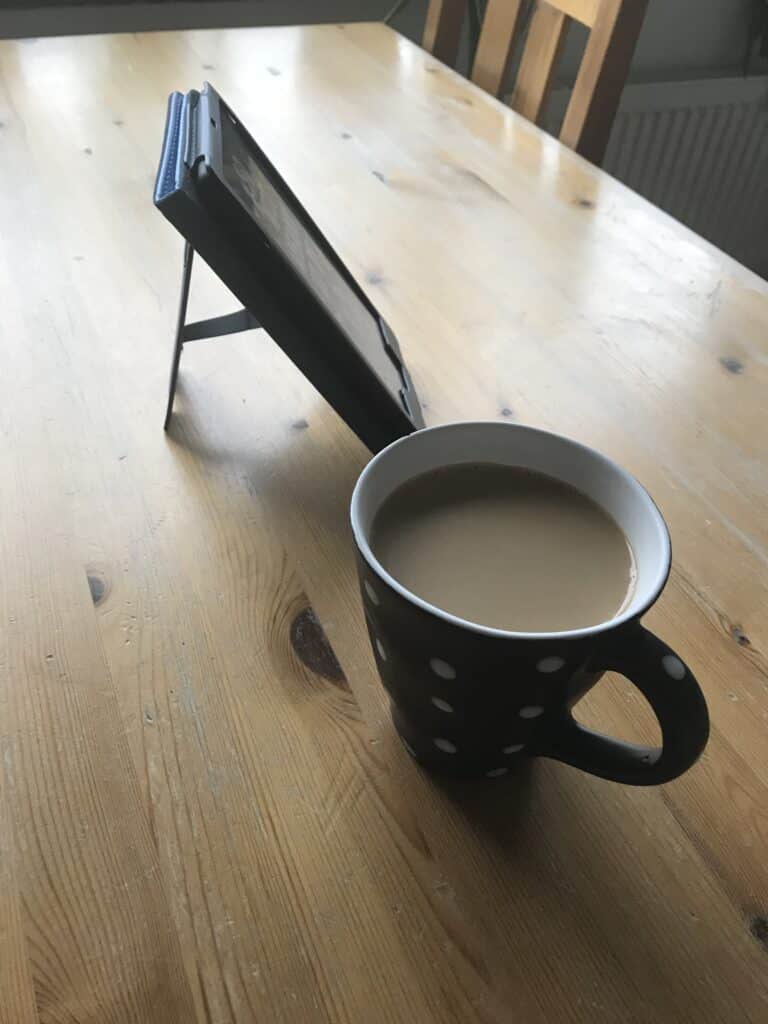 Another thing this cover has is room for cards and an elastic strap. Not sure why I would want to carry cards next to my device, but you can. The elastic strap is a different thing though. This is helpful for when you want to hold your device in one hand effortless. The cover has a magnet and snaps to the back cover, if you just wish to keep it cover open.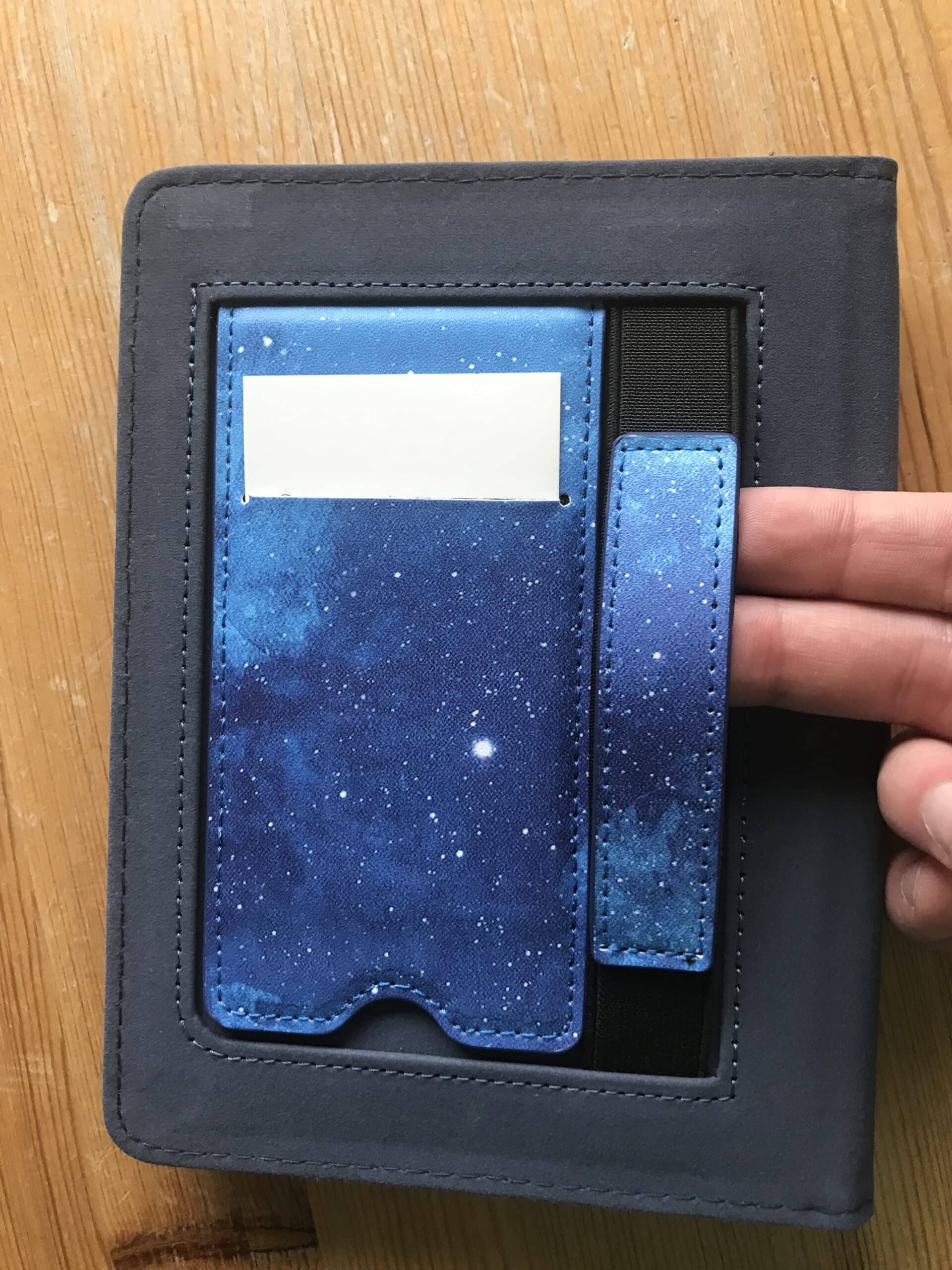 Goodreads and Kindle?
What is Goodreads? Goodreads is a book community. You can add things you want to read to your bookshelf, review books, and get ideas for what to pick up next in different genres.
It's also integrated into your Kindle, allowing you to get personalized recommendations inside your device without having to open another app. The recommendations you get are based on what you've read (and rated) before. Make sure to add previous books you've read to get the best recommendations. To help other readers don't forget to review the books you read!
First Impressions
The Kindle Unit
I must say I'm surprisingly pleased with my little device. It does exactly what it's supposed to. As promised, the reading experience feels more like reading on paper than it does reading from a screen. I even brought the device with me for a day at the beach and was able to read in direct sunlight without a problem. It doesn't weigh much and I can see how it could be convenient to put this in my bag instead of a more bulky book or paperback.
Can we stop for a second and mention the battery life on this thing? I got my Kindle sometime in May, booted it up a few days after that – and today it still sits at around 40 percent battery. Sure I haven't used it every day, but I know for a fact that my iPad would be dead as a doornail battery-wise long before this amount of time. A big bonus!
Another thing I like is that I can highlight things and make short notes while reading. I never highlight things in regular books, but doing it digitally and having my notes saved in one place? Yes, please! I also found out that I can view my notes collected on my Kindle or in my Amazon account.
One thing that I've noticed is my device takes some time to wake up from time to time and doesn't always give me the option to enter my pin. This happens mostly if it's gone into sleep mode and shows the cover of my current read. Usually closing and re-opening the cover does the trick, so it's a minor inconvenience.
Since I chose the version without a cellular connection, I have to make sure to download what I plan to read while at home (or hotspot from my phone). It's not a big problem and I'd say it's worth saving a bit if your data plan allows it or if you simply read mostly in your own home.
The Cover
The cover works well, and I've used both the stand and elastic band a lot. The stand is great if you wish to read while drinking a cup of coffee, and the elastic band is a good option if you sit or read in a place where you don't have a table. It keeps closed and feels nice. I haven't needed to clean it yet, but I think it will be easy to wipe it off with a damp cloth. Not sure what to use the cardholder in the stand for, but it's there if you wish to carry cards with you.
Some Tips
If you tap in the lower-left corner of the screen, you can change what kind of information is displayed at the bottom of the page. You can choose between viewing page number and percentage of how far you've read in the book. You can see how many minutes you have left in the chapter (based on your reading speed), how much time you have left in the book, and a location number, or choose to have no information displayed at the bottom of the page at all. For all options but having the bottom of the page blank, you see a percentage of how far you've read in the book.
A tap in the upper left corner gives you your menu so you can display time, go back to the library, see wifi signal, watch your battery as well as choose a list view or grid view of the book at the very bottom of the page [picture?] The list view, if you head back one screen, acts as a fast way to display a smaller version of your page – perfect for finding the right one if you forgot to bookmark where you left off.
Conclusion
Overall I'm more than pleased with my purchase and would recommend this as a good purchase if you're in the market and wish to save some space in your home while keeping up with buying books. Granted, I've only tried reading e-books on my iPad and iPhone before, but reading from the kindle screen feels much the same as reading from a paperback novel.
I like that it's lightweight and doesn't take up too much space, while still being a decent size page-wise. Prepare what to read, if you get a wifi-version, is a small price for getting a somewhat cheaper reading experience.
I like that you get connected to other readers if you involve yourself on Goodreads. Keep in mind though, that everyone has their own opinion – and that's ok! If you wish to read the book you see on my display, here's the link for it.
My rating for Kindle Paperwhite 2021 edition would be:

How do you prefer to read? Screen or paper?